New Year, New Sales Goals – Featuring Melina Owusu
---
As a Sales Development Manager for RollWorks, a division of NextRoll, Melina Owusu's responsibility is three-fold: to mentor a team of strategic SDRs so they have the resources to book meetings for their designated New Business Sales reps, align their career paths, and advance them to the next stage in their careers. 
But that's not all she's focused on. As Co-President of RollDeep, NextRoll's Employee Resource Group that promotes inclusivity and education amongst the Black community within and outside the company, she also works to ensure employees have a safe space to connect and bond with one another. With so much happening for Melina on a daily basis, we wanted to know her tips for focusing and preparing for success in the new year.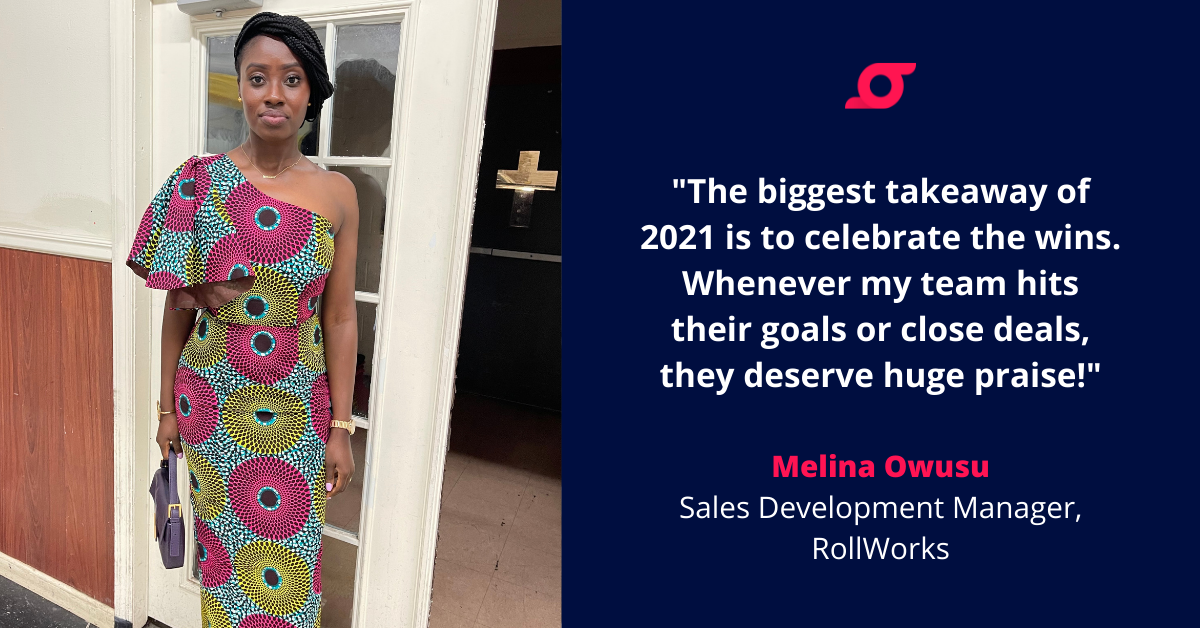 This year has been a challenging year on so many levels. As a sales leader, what's your biggest takeaway from last year? 
The biggest takeaway is to celebrate the wins. This is a big one for me because to have my SDRs overachieve in quota on a monthly basis is not an easy accomplishment. Whenever they hit their monthly meeting goal, hit their proposal goal, and put the cherry on top with a close or win, it deserves huge praise! 
How do you plan to meet your sales goals in the upcoming year? 
By staying focused and prioritizing key areas such as career development for my SDRs, ensuring they're hitting their KPIs weekly, and building the momentum on my team. 
Do you have any tried and true habits that help you succeed in sales? 
Leading with intuition and empathy. I lead with these habits because it allows me to see a situation from a holistic perspective. This, in return, allows for open communication and effective feedback with my team. 
Do you have any New Year's resolutions for your career? 
My New Year's resolution for my career is to continue to grow as a manager. I'd like to continue to gain more experience and broaden my product knowledge in the ABM space. 
How do you set your career goals for the new year? 
I'm setting my career goals by measuring my work/life balance, specifically, taking control of my time, volunteering to gain experience from other depts, such as demand generation and talent acquisition, and joining a professional network. Last but not least, gain at least one professional certification in sales leadership. 
If you're ready to join a rockstar Sales team and meet new goals, check out our open roles!