Start Strong. Finish Stronger. – Meghan Blohm
---
After nearly five years at NextRoll, Meghan Blohm has grown in so many ways. Today, as Manager II, Customer Onboarding at AdRoll, a division of NextRoll, she leads the business unit's Global Customer Onboarding team for customers in North America (NAMER) and Europe, the Middle East, and Africa (EMEA). 
Thanks to her strong skill set, which she built up during her tenure, and drive, she and her team manage accounts that increase retention, expand product use, and educate customers within the first 60 days of their onboarding lifecycle. 
We chatted with Meghan to learn how she feels supported in her current role and how NextRoll supports her career growth. Here's what she had to say!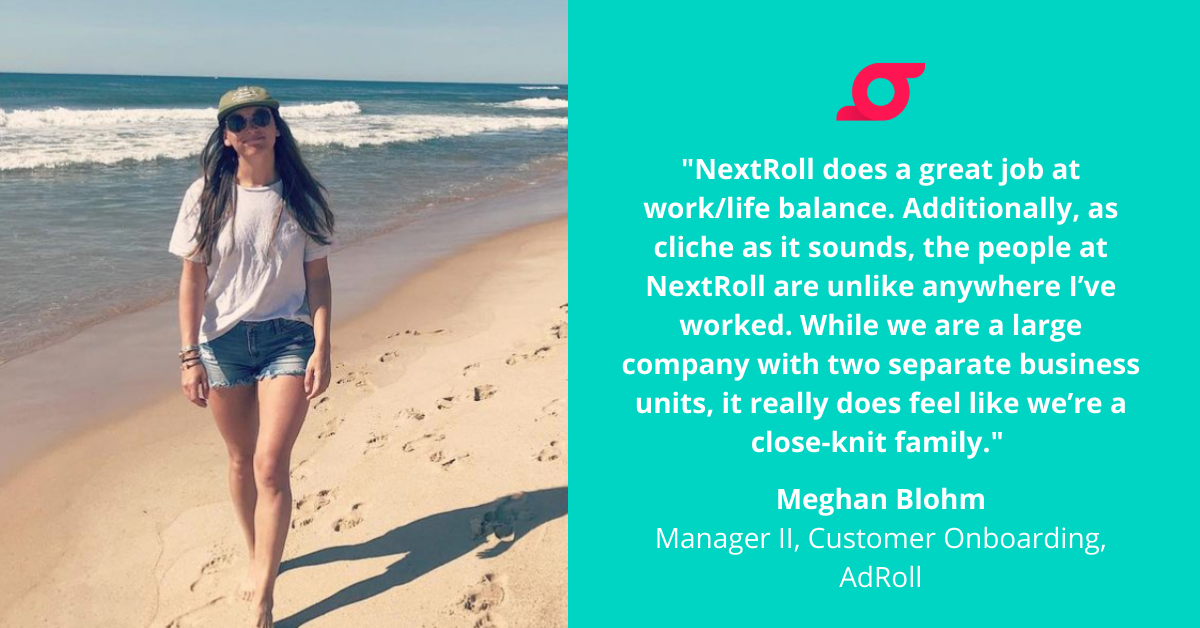 What do you enjoy most about your role?
Bringing on new Rollers (aka NextRoll employees) and watching them grow into their role while also upleveling more tenure team members. 
What do you think are the most important things to have in order to be successful at your job and why?
A few things come to mind: understanding my team's needs, taking initiative, being empathetic, and learning from mistakes.
It's very important for me to be well aware of my manager's and my team's needs. This helps me set and prioritize quarterly goals. It also allows me to fully know how every team member feels in their current role and sheds light on any mentorship and or trainings they may need to continue to grow and be successful. 
This industry is ever-evolving, which is why taking initiative is pivotal. Whether it's new ideas from a team round table or feedback from multiple customers, there needs to be an initiative to take action. Over the last two years, the Customer Onboarding Success team has started new internal processes, worked on product solutions, and created new opportunities for the program to grow.
Being empathic and learning from your mistakes go hand in hand. You can never truly understand the team you manage or their cross-collaborative team members until you put yourself in their shoes. This mindset allows me to build stronger relationships internally and within the team. Additionally, you can learn plenty from mistakes. Laozi once said, "Failure is the foundation of success, and the means by which it is achieved."
In what ways has NextRoll set you up for success?
NextRoll has provided a clear career path and actively trains and uplevels their employees on NextRoll product specifics and overall industry trends. Additionally, the company offers mentorship programs that have been useful for my career development. 
What keeps you going strong at work and why? (e.g. the way you balance life/work, your teammates, team activity, etc)
I truly embody one of our Culture Creatures, The Monkey. The motto is "We take work seriously – not ourselves," and I believe NextRoll does a great job at work/life balance. Additionally, as cliche as it sounds, the people at NextRoll are unlike anywhere I've worked. While we are a large company with two separate business units, it really does feel like we're a close-knit family. 
Where and how have you grown the most since you started at NextRoll?
I've developed a growth mindset, while also evolving my emotional intelligence.
How do you measure success in your career?
When measuring success, I look at the knowledge I've gained and also shared it with others. I also measure my productivity and the lessons learned from my failures. My success is not just based on my progress, but also on the progress of my team and other colleagues.  
Are you ready for a career that supports your aspirations and growth in and outside the office? Learn more about how we support ambitious women on our Start Strong. Finish Stronger. site.