Preparing for GDPR
---
If you do business or have customers in the EU, you've likely heard a lot about GDPR. In short, the General Data Protection Regulation (GDPR) is a new data privacy law going into effect on May 25, 2018 and impacts sites based in the EU or who want to reach EU customers. Among many things, GDPR intends to create more transparency, control, and accountability around what data is collected about individuals online, who has access to it, and how it is used.
We've spent several months preparing our business to comply with this new regulation. Along with our own process updates, we've released an online guide and are helping customers like you keep AdRoll activities GDPR-friendly.
What does GDPR mean for AdRoll customers?
AdRoll uses 'cookies' to inform our ad magic. When customers visit your site, a cookie is saved to the browser on their device which allows us and our supply partners to learn and remember a bit about each customer. You can then use that information to create relevant ads that match their experience—like recommended products and related deals.
Starting on May 25, changes in the EU law and requirements from our supply partners mandate that all businesses (including yours and AdRoll) ask for consent from individuals in the EU before using cookies and processing end-user data to provide our services. That means you need a tool to help you capture user consent when engaging with EU customers.
With over 37,000 customers around the world, AdRoll is committed to making this change easier for you. In fact, here is how we are helping out:
Customers in the EU (or with a lot of EU customers): We built a tool that collects cookie consent related to our services. We can also review your own tool if you have one.

Customers outside the EU: You can set up our tool in a few clicks to keep reaching interested EU visitors.

Customers with no EU visitors: We can help expand your reach in the EU. You can set up our tool and start reaching interested EU visitors.
Our tool for GDPR-friendly ads
Our tool helps make sure your AdRoll activities are GDPR-friendly. All it takes is a few easy clicks in the AdRoll dashboard. Below is a closer look at what you can expect.
What your customers see:
Our tool is designed to help advertisers meet cookie consent requirements for site visitors covered by the regulations. All businesses based in the EU need to meet these requirements for all site visitors. For non-EU based businesses, we won't disrupt the normal browsing experience for individual visitors outside the EU.
That means EU visitors will now see a notice informing them about cookie consent. Once they've taken any of several actions to indicate consent, we can place the cookie and work our magic like normal. These visitors can also choose to opt out of using AdRoll and our supply partners' cookies. ***Please note that final text and design are being finalized.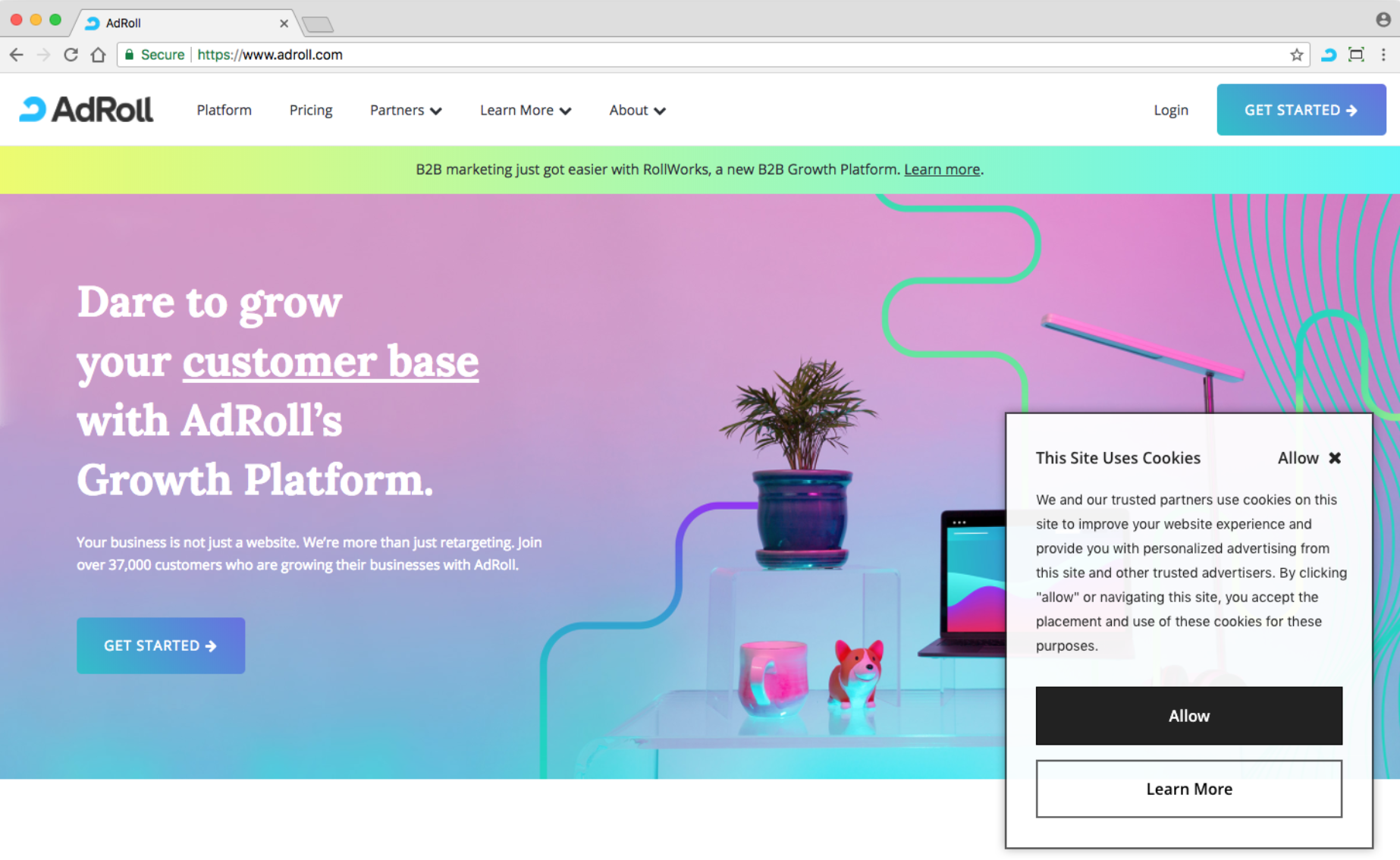 What's next:
We're adding our cookie consent gathering tool to your dashboard. You will see an alert once it is available and can also access it via 'Settings' at any time. Once the tool is live, either you or your account manager can select how to use it based on your business needs. We currently expect our tool to be ready in early May and will provide more information here as we get closer to launch.
If you are an existing customer, please let us know if you are using your own tool.

Looking forward
There's still time to prepare. Check out our online guide to learn more about the new law and how it might impact your business. We'll be sharing more updates for customers over the next few weeks. Feel free to reach out to your account manager or support@adroll.com if you have any questions.