AdRoll Named to SF Business Times' Best Places to Work – 2018
---
Note: AdRoll, in this context, rebranded to NextRoll in September 2019. Today, AdRoll exists as a business unit under NextRoll.
Being recognized as one of the top companies in the Bay Area by San Francisco Business Times' Best Places to Work is something we are very proud of. Being recognized for the 5th time shows our focus on building an authentic culture of openness, inclusion and continuous development is resonating.

But culture isn't something you sit down one day and decide to build a plan for. It takes time, commitment and a north star that you can relate to and benchmark yourself against. For AdRoll Group, our Spirit Animals are that north star which represent our core values. In this blog post I want to share with you what they are, what they represent and how we bring them to life across the company through the eyes of our Rollers (our employees), whose anonymous, voluntary feedback was the basis for this award.
People-First Culture
At AdRoll Group, what sets us apart is that we are a people-first company. This is embodied by our six Spirit Animals, each of which represents a core value:
The Bee represents innovation and building products that work for everyone

The Dog demonstrates loyalty and doing right by the customer and our community

The Monkey embodies fun and a mantra of taking work seriously but not ourselves

The Beaver shows a focus on being industrious and doing more with less

The Jellyfish represents transparency and being open and authentic with those around you

The Owl reflects wisdom and a focus on hiring great people and helping them grow

Collectively, our spirit animals define how we roll and we bring this to life through everything we do, from the office experience to Spirit Week.
"One of the greatest aspects of this company is culture. I work with a bunch of incredibly smart and passionate people, yet everyone checks their ego at the door and we all collaborate very well together. It's a welcoming, respectful, and fun work environment and I think the senior leadership (and really everyone here) has done a great job preserving that as we've continued to scale."
Here are a few illustrations of how we live our values at AdRoll Group.
Owl: hire great people and help them grow
Whether you are just starting your career, or are a senior executive seeking to up-level your leadership skills, we invest heavily in our Rollers' personal and professional development. Some of our development offerings include:
6-month manager training series on foundational management

Electives for all Rollers on a range of high-impact skills including The Power of Authenticity and Crucial Conversations

Women in Leadership – a formalized development program for AdRoll's female leaders. Cohorts participate in a 6-month Group Coaching Program where they learn how to increase visibility and gain access to senior mentorship

Mobility and cross-functional programs allowing for career growth and expansion of traditional scope
"[AdRoll Group is] the right company for this early stage of my career ­- mature enough to offer the stability of larger companies, but young enough to offer more than its fair share of excitement and growth opportunities. Coworkers are smart, motivated, and very friendly. Company culture is very healthy in its approach to work/life balance."
Jellyfish: be open and authentic
In addition to our professional development initiatives outlined above, we run a global Diversity, Equity, and Inclusion (DEI) program. The vision of our DEI Initiative, embodied in our Jellyfish Spirit Animal, is to reflect the diverse communities in which we live and work, to create a strong sense of belonging, and to harness Rollers' diverse talents to drive innovation and sustainable growth for our business. As part of our DEI program, we have thriving employee-driven resource groups, like RollMigos (Hispanic/Latin(x)), RainbowRoll (LGBTQ+) and RollDeep (African-American/Black) that work to drive conversation and action towards advancing their communities, both within and outside of AdRoll Group. For example, RollMigos co-hosts community volunteer events with AdRoll Gives Back, our community service ERG. In honor of Cesar Chavez Day, RollMigos recently partnered with a local literacy organization, Reading Partners, to host a book drive for our neighborhood elementary school, Cesar Chavez Elementary. Due to Rollers' generosity, every Reading Partners student at Cesar Chavez went home with a brand new book to read over their Spring Break.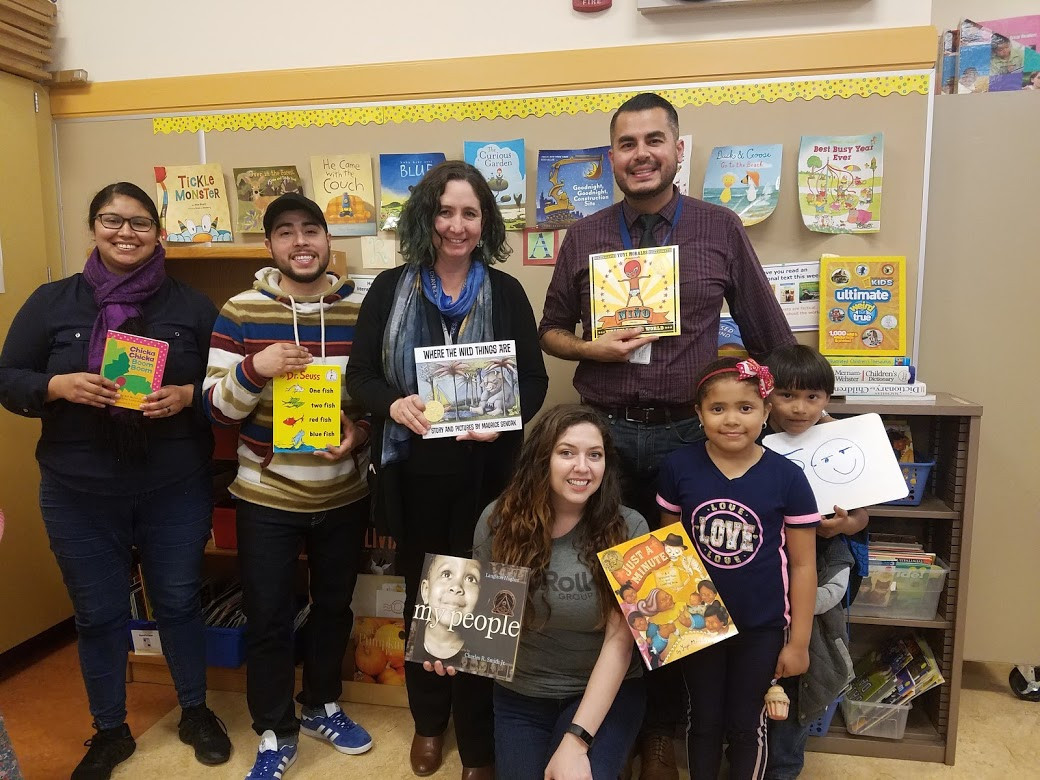 "I love the diversity efforts and seeing the progress alongside AGB events. It's great that we're trying to give back as much as we can and becoming an inclusive workplace."
Dog: do right by the customer and our community
Our steadfast commitment to the community is a foundational element of AdRoll Group's culture, embodied in another of our Spirit Animals, the Dog, and reflected in the value of doing right by the community. We give all Rollers the time and opportunity to give back through volunteer efforts which focus mainly on education, professional development and community support. We call these efforts AdRoll Gives Back and have a volunteer group of Rollers that coordinate activities across the globe.
"Our culture is unbeatable. The trivia nights, VinoRoll, ERGs, commitment to giving back, and the focus on DEI are all things that make AdRoll unique."
There are many other factors that make AdRoll Group's culture special, from our annual "Summer Day" where we take the day out of the office to enjoy the weather, as well as each others' company, to the annual Dog and Cat show we host for our four-legged friends!
If you are interested in being part of a culture where you can be your authentic self, make a real impact, and dare to grow yourself professionally, join us!