Start Strong. Finish Stronger. – Meet Corey Shott
---
Since joining NextRoll, Corey Shott has spent the last half-decade learning, growing, and supporting several growth-focused engineering teams responsible for the AdRoll Business Unit's email, pixel, and – most recently – reporting dashboard and reporting system. Tackling new opportunities has pushed her out of her comfort zone and into her role as a leader and as a Senior Software Engineer. 
Time flies when you're having fun and learning new skills, which in Corey's case includes dynamic career growth opportunities, trainings, and workshops with colleagues. One of these recent classes, a Women in Leadership workshop hosted by NextRoll, is a six-month leadership development program for high-potential women.
Even though her engineering role is demanding, here's why Corey invests work time to grow her leadership skills – and how NextRoll supports her efforts and those of other driven women across the company.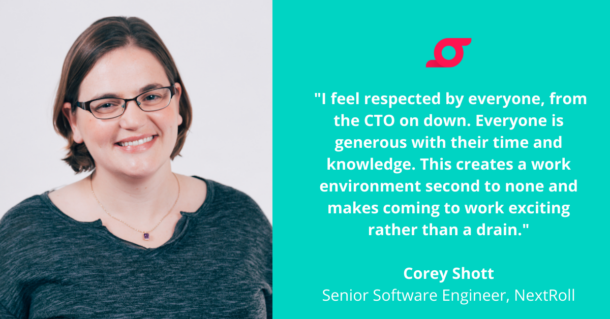 What do you enjoy most about your role?
I appreciate that each day is different. Since I'm a full-stack engineer, one day I might be working on our backend services to deliver a new report and the next implementing a new feature in the user interface. Engineers are always faced with interesting challenges, so I'm always learning and growing. Our team grew quite a bit over the past several months, which allowed me to take on more leadership within the team.
What do you think are the most important things to have in order to be successful at your job and why?
If I could describe the key to success in my job in one word it would be: openness.

On an individual level that means having an openness to taking on more complex projects or mentorship roles as a key to success. Taking on projects that require me to communicate with external teams, or make decisions based on limited information, pushes me outside of my comfort zone. But, being open to these opportunities leads to growth and rewarding success.
In the context of my manager, I appreciate openness to my continued development in ways that help me grow as a software engineer or team leader. All my managers have been not only open to me taking "work time" to engage with learning opportunities but also have actively suggested opportunities.  
Most recently, my manager encouraged and supported me in participating in NextRoll's "Women in Leadership" (WIL) program. While it would occasionally take me away from my normal, day-to-day responsibilities, the mentorship and skills I gained are something that will help me succeed here at NextRoll.
Success at my job is in large part possible because I work with an incredibly supportive team and engineering organization. 
In what ways has NextRoll set you up for success?
I came to NextRoll as a career change, having spent a good part of my career working in the policy world for nonprofits. NextRoll hired me right out of a coding boot camp and has supported me from Day One in my technical growth for the past five years.
In addition to actively contributing to my technical growth, I'm rewarded for the non-engineering skills I bring to the table from my previous career. Communication, leadership, and organizational skills, to name a few.  I'm not sure this is true for all engineering teams in the tech world.
NextRoll provides a number of opportunities internally for anyone to build skills and succeed. The aforementioned WIL program is a big one that I took advantage of recently, but the company also provides opportunities throughout the year for anyone to grow in their jobs and as humans who work with other humans.
I feel recognized as a whole person at NextRoll for the multitude of skills and perspectives I bring to the table. This is essential for success in any job.
What keeps you going strong at work and why?
NextRoll really respects that we are humans and need time away from work. Sometimes that means taking a long lunch break to go for a hike with the dog or maybe a vacation to truly "unplug." Everyone I interact with at NextRoll is a hard worker and does very good work. Leadership recognizes that everyone needs time to recharge their batteries, so we can do more to achieve our goals.
We spend most of our day at work, so enjoying work and the work environment is key. I've been lucky to work with incredibly smart and nice people. Everyone works hard but also takes the time to support others. I feel respected by everyone, from the Chief Technology Officer on down, even if I'm asking simple questions or for advice on a way forward on a project. Everyone is generous with their time and knowledge. This creates a work environment second to none and makes coming to work exciting rather than a drain.
Where and how have you grown the most since you started at NextRoll?
Since I came to NextRoll from a non-engineering career, my coding/engineering skills have certainly seen the most growth. With that experience, I've been able to take on more complex projects. I've gone from solving small, contained issues to more expansive projects that require working with other teams and making decisions about the software architecture.
I also have more responsibility within the team. Instead of exclusively focusing on my own work, I find myself in more of a leadership role by working with my teammates to achieve common objectives.
How do you measure success in your career?
On an individual level, I think a strong measure of success is you're happy and fulfilled in your career. For me, that means I'm solving interesting, complex problems and I'm learning and growing my skills.
Success also means understanding what your manager, team, and company are looking to achieve and contributing to those goals. Individual achievement is satisfying, but recognizing the larger picture and helping others achieve their measures of success means you are having a broader impact.
Are you ready for a career that supports your aspirations and growth in and outside the office? Learn more about how we support ambitious women on our Start Strong. Finish Stronger. site.