Start Strong. Finish Stronger. – Meet Ebi Adegbe
---
As the Workplace Lead for NextRoll's San Francisco-based and Remote teams, every day presents new challenges for Ebi Adegbe to tackle. And in the process, she finds new opportunities to discover creative ways to embed NextRoll's culture into everything she does. From managing office operations and supporting remote Rollers, to planning interactive events such as happy hours, work anniversaries, and holiday celebrations, no two days are the same for Ebi. In fact, it's what she loves most about her job! 
With the support and mentorship she receives from NextRoll, she feels confident that she's always delivering great work, no matter what the day brings. Looking back on her three-year (and counting!) journey at NextRoll, this is what she said about her growth and her future!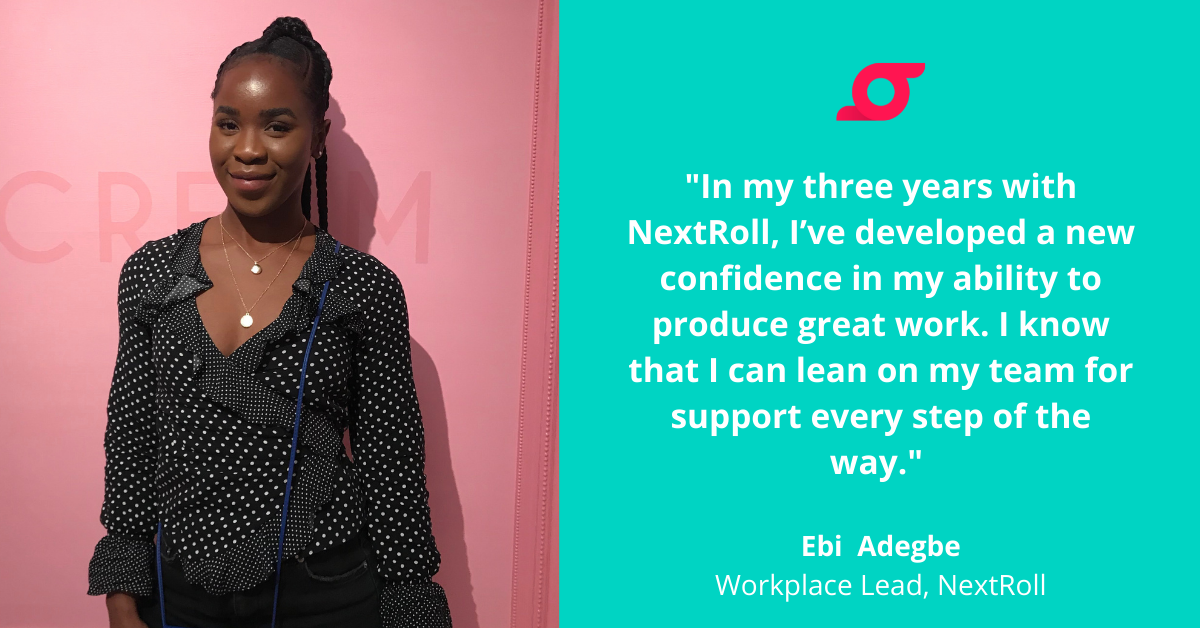 What do you think are the most important things to be successful at your job?
I've found having a manager who provides you with constructive feedback as you grow in your role is essential. No matter how many people you collaborate with, your manager is always in your corner to help you identify any blind spots in your work processes. They're also someone who will position you to take on more scope in your role, furthering your career growth.
Having teammates who look out for one another is equally important because you never know what setbacks or situations you might find yourself in. It helps to know your teammates are willing to step up for you if needed.
In what ways has NextRoll set you up for success?
During our company-wide quarterly goal-setting sessions, I'm able to identify new ways I can improve my work processes. This gives my manager visibility on what I'm working on, so we can create a plan of action to help me achieve those goals together. For example, when our office went fully remote, our team had the bandwidth to assist with other projects across other departments. My manager referenced my goal to learn Photoshop and connected me with our Marketing team where I could assist with social media for NextRoll. This opportunity allowed me to nurture my graphic design skills.
Where and how have you grown the most since you started at NextRoll?
In my three years with NextRoll, I've developed a new confidence in my ability to produce great work, which ultimately makes people happy. With that confidence, I take the initiative to lead various projects. I know that I can lean on my team for support every step of the way. 
What keeps you going strong at work and why?
What keeps me motivated every day is knowing the work I do directly impacts the employee experience. Being on the Workplace team, we've had to make a lot of adjustments to our programs since our offices have been closed to ensure they align with this new way of remote work. 
Creating a more thoughtful employee experience is very rewarding for me. Specifically, the virtual Culture Club events are more fun and engaging than they were in person. It's pretty cool to bring together Rollers not only in San Francisco, but across the globe, and share those exciting experiences that reinforce our team-building Culture. 
Are you ready for a career that supports your aspirations and growth in and outside the office? Learn more about how we support ambitious women on our Start Stronger. Finish Stronger. site.