NextRoll Gives Back – 7 Years of Corporate Giving and Counting
---
Community is not just where you live or work, it's also a feeling of fellowship with others. And it's these sentiments that continue to fuel our NextRoll Gives Back program.
NextRoll Gives Back is an internal volunteer-based initiative that aims to serve the communities around NextRoll offices while building community among Rollers (aka NextRoll employees) around the world. Because we know when we make a positive impact in the places we call home, we build a brighter future for those we care about – our neighbors, our customers, and our coworkers.
Over the past seven years, NextRoll, via NextRoll Gives Back, has donated tens of thousands of dollars to local and global charities, as well as over 10,000 volunteer hours from our team. 
Channeling NextRoll's Dog Culture Creature, which represents our value of loyalty and doing right by the customer and the community, NextRoll Gives Back is a concerted effort to make community service a part of our regular workday. One that continues to thrive long after our working environments changed in 2020.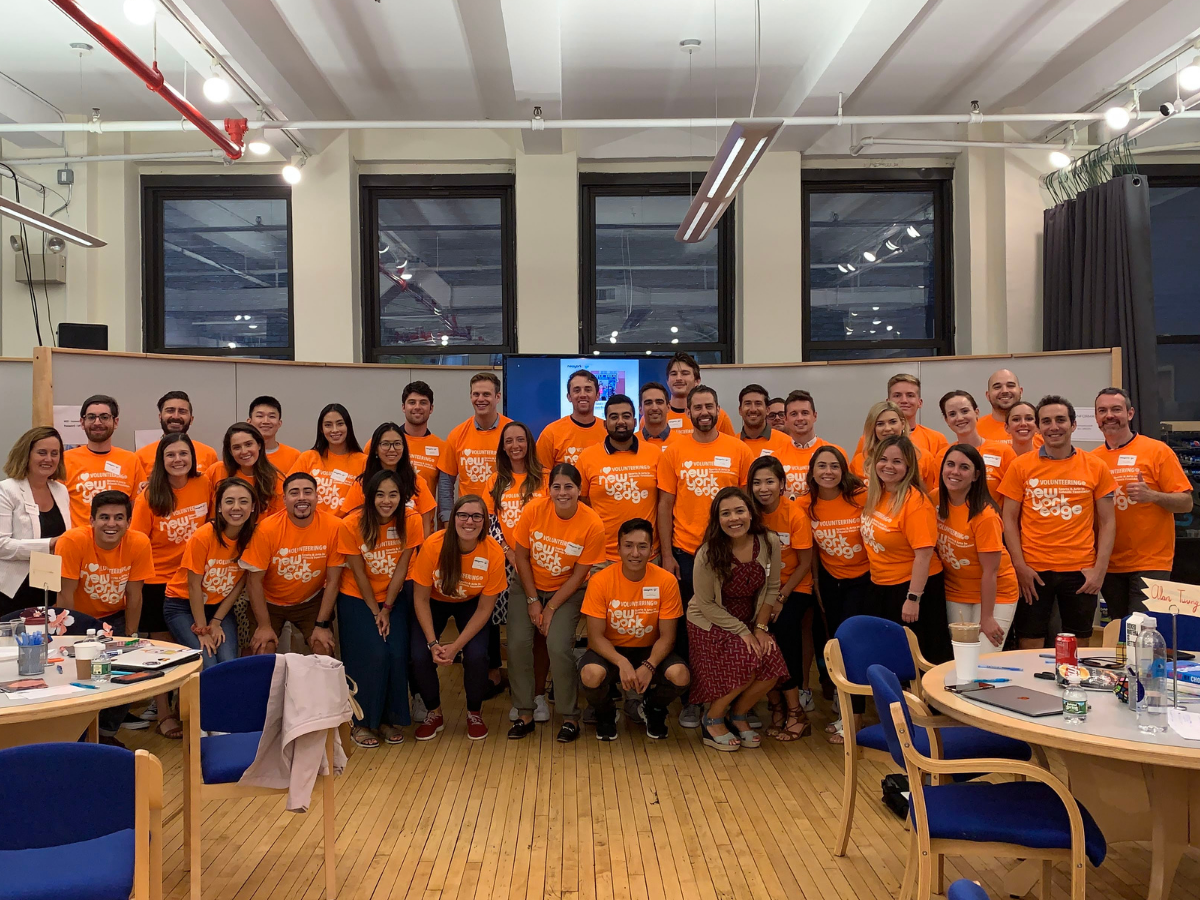 NextRoll's Corporate Giving History
Back in 2014, when our now-EVP of People Amy LeBold joined NextRoll, she and other Rollers noticed the opportunity to create an organized effort focused on volunteering and community involvement.
"Although we had a large population of employees who volunteered their time on the weekends, or after work, there was not an internal community focused on giving back," she said.   
NextRoll Gives Back's original mission was to organize the collective giving efforts of our Roller community to give back in the areas of education, professional development, and local communities where we work and live.
At its launch, eight people from different departments and different levels of NextRoll volunteered to join the NextRoll Gives Back Board. The group dedicated their time to look for impactful causes for their $8,000 budget and Rollers' time. 
"It's always been a grassroots effort," said Amy. "There's no executive sponsorship for the group, beyond the corporate budget. It's a genuine way to do right by the community. The Board volunteers their time to find, promote, and talk about these opportunities in addition to their day jobs." 
Some of the initial nonprofit partnerships in the San Francisco community included groups like Glide Memorial, Habitat for Humanity, the San Francisco-Marin Food Bank, and the San Francisco Education Fund.
As a part of the "Circle the Schools" program launched by the San Francisco Education Fund, NextRoll partnered with the nonprofit to sponsor the June Jordan School for Equity shortly after the launch of the NextRoll Gives Back program.
"One of the coolest parts about this program is that a lot of our students have no idea the number of jobs in their backyard. When they think of tech, they think of just engineers," said Jenny Siegel of the San Francisco Education Fund. "So it's really amazing that we can do career panels, job shadowing, and office visits with NextRoll to expose kids to the vast amount of jobs that exist in their community." 
And as we grew as a company, so did the NextRoll Gives Back initiative. After opening new offices in New York, Salt Lake City, Dublin (Ireland), and Sydney (Australia), NextRoll Gives Back created local chapters in those locations.
"Having local chapters allows folks in those offices to curate opportunities that focus on the greatest needs in their community – like homelessness in San Francisco, for example," said Amy. 
Pandemic Pivots and Virtual Volunteering
Today the NextRoll Gives Board consists of nearly 20 people who work at all levels and departments within NextRoll. Leadership also expanded its budget to $40,000 annually. 
And although more Rollers work remotely or are more dispersed than when NextRoll Gives Back first launched, our global team continues to volunteer their time, improve their communities, and make a lasting impact in underserved communities. 
For example, through our partnership with the San Francisco Education Fund and the June Jordan School for Equity, we still commit to hosting three to five events every year. 
Starting in 2020, we moved these events into a virtual setting, which ensures our support continues during the toughest times for students learning remotely, many with families experiencing hardships during the pandemic.
"This partnership, in particular, has a really big emphasis on college and career readiness and exposure," said Jenny Siegel from the San Francisco Education Fund. "So the majority of our virtual events are around college application assistance and a mentoring program where NextRoll employees help seniors on their personal statements. NextRoll volunteers provide feedback via Google docs. They don't meet face-to-face but work together virtually for over six weeks."
In addition, Rollers volunteer to help students virtually with student loan applications, host resume workshops via Zoom, and donate school supplies, gift cards, and holiday meals to the June Jordan School for Equity.
While the San Francisco Education Fund saw other organizations pull back on volunteer efforts, NextRoll's commitment remained steadfast. In fact, based on volunteer hours, NextRoll lands in the Top 20% of the Education Fund's company contributors  – which include big tech names like Salesforce and Dropbox. 
"NextRoll does a really good job of asking what we need and getting it for us, and being collaborative and supportive of the students and the program," said Jenny Siegel. "NextRoll goes above and beyond."
This feeling is echoed internally, as well. The most positively rated statement in our internal sentiment survey centers around asking Rollers if they believe our commitment to social responsibility – including the NextRoll Gives Back program – is genuine.
"It's a testament that folks believe we do this not because they think we have a corporate goal, but that it's truly who our Rollers are," said Amy. 
Other examples of NextRoll Gives Back initiatives since 2020 include matching employee donations to the World Health Organization's Covid-19 relief fund, donating laptops to nonprofits in New York, contributing to food and hygiene supply drives in Salt Lake City, and supporting the Irish Cancer Society.
What's Next for NextRoll Gives Back
Since the NextRoll team is more spread out than ever before, thanks to our Hybrid Work Model, the NextRoll Gives Back Board deliberately seeks out and includes members from all over to expand our global reach. 
"We meet as a global group quarterly, and each of the various offices meets separately with their local NextRoll Gives Back team," said Shelly Vernick, a NextRoll Gives Back Board Member based in San Francisco.
And although we're eager to get back to in-person volunteering, since one of the founding ideas behind NextRoll Gives Back is to create a community within the organization through volunteering with one another, the Board will continue to find remote/virtual opportunities for remote Rollers everywhere. 
"There's some feeling about being part of a giving back community when you see who else is giving with you," said Amy. "But what we've learned during the pandemic is that there are pros of having virtual opportunities for Rollers because it removes participation barriers – like commuting time or location." 
Another area of learning during the Covid-19 pandemic is the importance of mental health and understanding how NextRoll can make a positive impact through the NextRoll Gives Back program in this area. 
"The isolations, challenges, and stress that many of us experienced while working from home encouraged us to expand our thinking on which communities we can serve," said Amy. 
Recently, we also reshaped our Diversity, Equity, and Inclusion Committee to include three subcommittees, one of which is philanthropy. This creates more possibilities for NextRoll Gives Back to partner with our internal Employee Resource Groups (ERGs).
"Having synergies between NextRoll Gives Back and our ERGs gives us greater opportunities to work with them and learn how we can have more impact in those communities," said Shelly. "That's the next frontier."
Another initiative the NextRoll Gives Back Board hopes to implement, once NextRoll offices reopen, is giving new hires the opportunity to volunteer together during their first month at NextRoll.
"We want to show that giving back is part of the fabric of our culture early on, and let new Rollers know that one of the important things about being a Roller is that you give back to the community," said Shelly.
And as NextRoll continues to grow, we know these efforts and community involvement will continue to attract top talent who care about giving back. 
"I'm one of those people, actually," said Shelly. "My whole career prior to NextRoll was in the nonprofit sector. I wanted to work for a tech company, but I wanted to work for one with a soul. That was really important to me, and I pursued NextRoll because of the NextRoll Gives Back effort. Being a part of this community is what has kept me here for six years."
Interested in joining our team and giving back to your community with your colleagues? Check out our NextRoll Careers page, and learn more about our award-winning culture while you're there!