Start Strong. Finish Stronger. – Roberta "Roby" Baldassarre
---
Empowering women at NextRoll and in her community is just one of Roby's passions and motivations. As a Director of financial planning and analysis (FP&A) for RollWorks, a division of NextRoll, she works with the leadership team to drive all aspects of strategic planning. This includes developing financial and business plans, partnering with business leaders across the company, and driving analysis to gather business insights.
During her two years at NextRoll, she also joined the Board of RollWomen, NextRoll's Employee Resource Group (ERG), and graduated from the six-month Women in Leadership program. These are just a few ways of how Roby makes the time to grow at work, and how NextRoll supports her growth. Keep reading to learn more!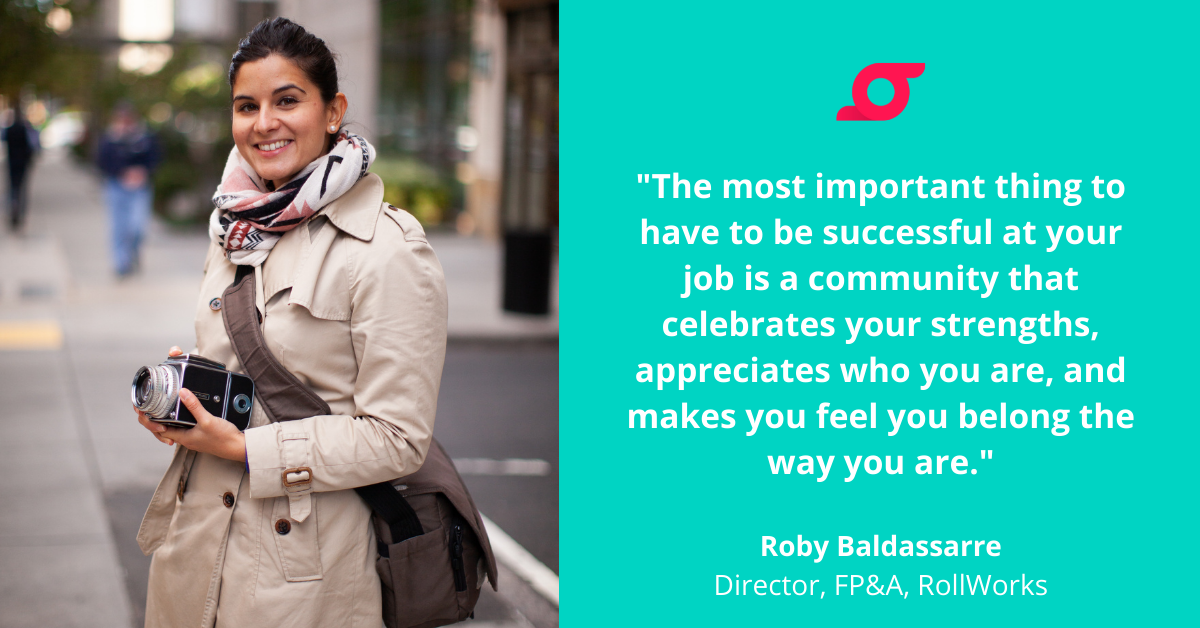 What do you enjoy most about your role?
I enjoy having a say in strategic projects and initiatives, the ability to influence business decisions through analysis, and the cross-functional/collaborative aspect of the role.
What do you think are the most important things to have in order to be successful at your job and why?
A community that celebrates your strengths, appreciates who you are, and makes you feel you belong the way you are.
In what ways has NextRoll set you up for success?
Thanks to the Women In Leadership program, I networked with a group of talented, driven, ambitious women who helped me realize what I bring to the table and why that is so special.
What keeps you going strong at work and why?
The feeling of being appreciated, the sense of belonging, and the drive to make a difference.
Where and how have you grown the most since you started at NextRoll?
In life, I believe that I stretch myself and grow the most when things are tough. At NextRoll, I've grown the most while I went through a change of management, hiring a new analyst, and meeting all the deadlines. 
Last year, I joined the Board of RollWomen ERG. Since then, I've had the opportunity to master a completely new set of skills – like public speaking and event planning, which tend to be more foreign in my finance-focused role. 
The Women in Leadership Program was a great experience to connect and reflect on my areas of growth, to focus on learning to say no and not being so hard on myself, to use humor to deflect stressful situations, and to not be afraid of being direct.
How do you measure success in your career?
Success is making a difference and feeling great about what I've done. Success is learning, finding solutions, moving forward, checking off items on my list, and finding a balance between life and work. Success is taking care of myself, feeling accomplished, and energized. 

Are you ready for a career that supports your aspirations and growth in and outside the office? Learn more about how we support ambitious women on our Start Strong. Finish Stronger. site.