Celebrating our DEI Leaders and ERGs
Our first ERG Rally recognized ERG leaders at NextRoll
---
Impactful diversity, equity, and inclusion programming within a company is no small task. At NextRoll, we have a dedicated DEI team and eight Employee Resource Groups (ERGs) with leaders who work daily to ensure Rollers feel included and have the opportunity to learn about new cultures within our community. 
This year, we hosted our first ERG Rally as one way to say thank you to all these leaders who contribute to our culture and company! The virtual celebration included messages from our CEO Roli Saxena and the Executive Sponsors of our ERGs, which are all NextRoll senior leaders. We called the event a "Rally," as we wanted an opportunity to bring the ERG leaders together to celebrate all their work and their impact here at NextRoll. 
"I want to start by thanking you and your leadership and dedication to help build an inclusive culture here at NextRoll," Roli Saxena said during the event. "As an introverted woman of color, I have personally valued and benefitted from ERGs in the past. As a former ERG leader, I know and recognize how much work it is to lead an effort like this in addition to your day job. So, today is to recognize all of you and celebrate the work you all have done in making NextRoll an inclusive culture."
At NextRoll, our eight ERGs represent different underrepresented groups within our company and our communities. Each group has an Executive Sponsor and between three to seven leaders.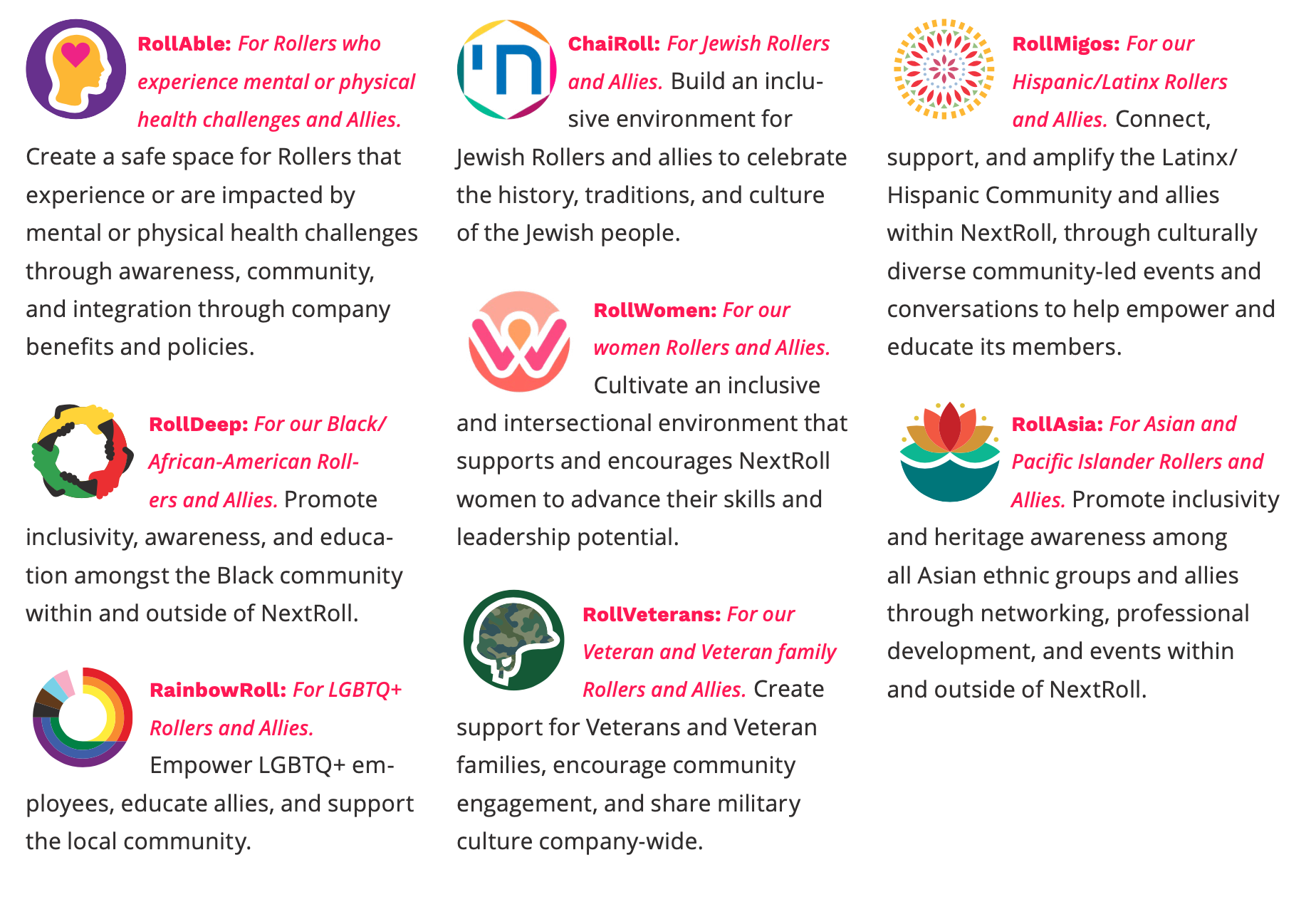 Rollers who lead or sponsor an ERG volunteer for their role and carve time out of their workday to do so. Their commitments are purely out of their passion for promoting their community or their allyship and moving the needle on diversity, equity, and inclusion here at NextRoll. 
"Before I joined NextRoll, I remember researching the DEI Programs that NextRoll ran, and I was so impressed as I learned about the work that NextRoll's eight ERGs did quarter-over-quarter and year-over-year," said Ngozi Okeh, Director of DEI. "As I've connected with ERG leaders over the last two years since I joined NextRoll, I understood that they are driven by their connection with the ERGs mission, passion for enriching our culture, and desire to create safe spaces for Rollers to learn and engage."
At the Rally, ERG leaders celebrated and thanked one another for the inspiring and informative programming over the past year. It showed how the ERG leaders themselves are creating a community as Rollers who care deeply about DEI.
"Thank you NextRoll, for the opportunity to participate in ERGs," said Shae Henrie, a RainbowRoll ERG leader. "Not every company offers groups like this. It makes a huge difference in my experience here. I appreciate it!"
As we celebrated the leaders during the ERG Rally, we also looked at all the work they and our DEI team put out over the past year – and it was quite impressive! Together they hosted 75 ERG events, almost double the previous year's number. 
Before hosting events, our ERG leaders think through what is relevant to bring to our Rollers based on current holidays or cultural observations. And they always think about a fun way to either educate, empower, or affirm our Rollers through programs. These events included everything from guest speakers and cultural cooking/baking classes to trivia events, book clubs, and fitness challenges. 
They also hosted our annual RollTogether Fair, a week-long showcase to inform Rollers of each ERG's mission and attract new members. The ERGs hosted 20 sessions at the fair, and Rollers checked into these sessions 649 times. The leaders gave out 71 prizes linked to events at the ERG virtual booths during the fair. And the event was a hit! Rollers gave the RollTogether Fair a 5-star rating at the end. 
This is a lot of work, and our ERG Rally was where we could celebrate it all and say a big thank you to all the leaders who made it possible over the past year. 
"What I love about ERGs is that it helps broaden and shift perspective and create a forum for conversation," said Vibhor Kapoor, President of AdRoll. "NextRoll punches above its weight class here!"
And as a special thank you, the DEI team also sent the ERG leaders a mug and lunch credit to celebrate the day.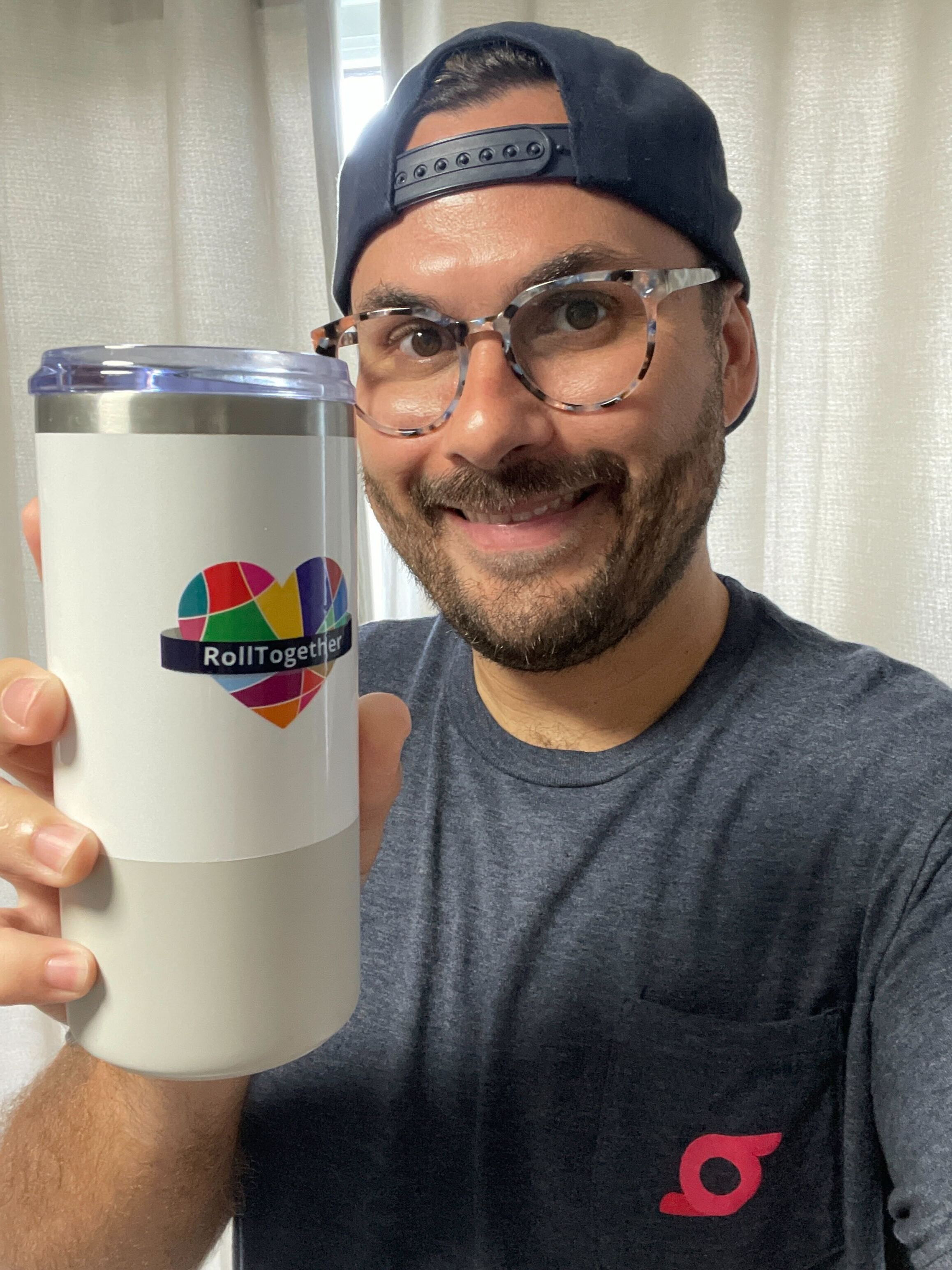 At NextRoll, DEI is a core part of our culture. We strive to not only create a workplace that is diverse and inclusive but also create programs to promote equity and mobility for people in underrepresented groups. Our ERGs are core to bringing this commitment to life and giving us the feedback we need to create programming that serves everyone at NextRoll. 
Learn more about our culture and head over to the NextRoll Blog to learn more about our DEI programs and milestones.