NextRoll Celebrates Career Month
Trainings and speakers encourage career growth at work
---
At NextRoll, we know a Roller's first job title will likely not be their last. Not only do we anticipate career growth, we expect it and support it. And we offer programs and seminars to make it happen. 
To celebrate and focus on career development, our Learning & Development team hosted Career Month in April! Throughout the month, the team curated various events that empowered Rollers to take their careers to the next level through trainings, talks, and advice from their peers.
From our latest Q1 2022 engagement survey, we know 2 out of the 5 top drivers of engagement are around career opportunities and career development. During Career Month, we're intentionally focusing on helping Rollers think about upskilling, reskilling, and continuous learning as a tool for career growth.
Each week of Career Month had its own theme to strengthen a particular job skill. Here's a recap of the programming we offered throughout April!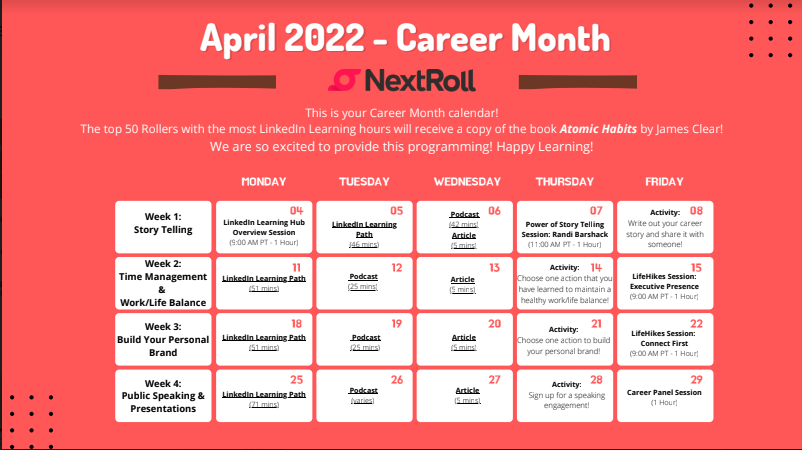 Week 1: Story Telling 
We kicked off Career Month by focusing on how Rollers can strengthen their storytelling skills – something that is very core to selling or marketing, which is at the heart of our business. It's also a career strength, as everyone can benefit from learning storytelling to sell themselves and their skills when they're looking to promote into a new role. 
During the week, Rollers had the opportunity to learn more about our LinkedIn Learning Hub. In the LinkedIn Learning Hub, Rollers have free (sponsored by our company) access to a library of curated LinkedIn Learning content that relates to our business and their personal goals. Rollers also received a link to a LinkedIn Learning Path focused on Story Telling. 
Rounding out the week, Randi Barshack presented "The Power of Storytelling." She discussed the importance of storytelling throughout her career and life.
Alyssa Dowdalls, NextRoll's Sr. Brand Marketing Manager, shared her Career Story during Week 1, which focused on her unique path and how her passion for storytelling led her into brand marketing. Her advice for Rollers:
"If you're ready for a new career path, invest in your skills and do it often," she said. "Find what you're passionate about and become an expert in those areas."
Week 2: Time Management and Work/Life Balance
Having work/life balance is now the top priority for employees aside from salary, according to Comparably data. But achieving this is easier said than done, even when working for a company like NextRoll that truly invests in and supports life outside of work. So in Week 2 of Career Month, our L&D team focused on providing resources to help. 
Week 2's LinkedIn Learning Path included courses such as "Proven Tips for Managing Your Time" and "One Minute Habits for Hybrid Working Success" plus others. We also partnered with LikeHikes to host an "Executive Presence" training and support Rollers who want to gain respect, forge stronger relationships, and increase their influence during meetings or presentations. 
Rollers also listened to a podcast by Jay Shetty "7 of My Best Time Management Habits to Help You Do and Create More in Less Time."
In sharing her Career Story, Victoria Waterman, AdRoll's Sr. Director of Customer Success, said focusing on work/life balance leads her to success inside and outside of work.
"I've always made sure that I had something to focus on outside of work," she said. "Whether it be travel, cooking, fitness goals, etc. I think it's very important to have hobbies and passion projects that diversify what's on your mind."
Week 3: Build Your Personal Brand
Learning how to build a personal brand that showcases your strengths and individuality can be instrumental in career development. 
That's why we focused on personal brands in Week 3 and invited Rollers to take LinkedIn Learning courses including "Creating Your Personal Brand," "Establishing Your Personal Brand," and "Why Personal Branding is Important." We also partnered with LikeHikes again, this time to host the "Connect First" training. The training is intended to help Rollers communicate at a deeper and more impactful level, as well as channel anxiety and nerves into usable energy at work. 
Rollers also read the article "10 Golden Rules Of Personal Branding" by Goldie Chan.
Week 4: Public Speaking and Presentations
As anyone works their way up the career ladder, chances are they will have to speak and present to colleagues, potential customers, and outside organizations more than ever before. And sometimes getting there takes solid public speaking skills. 
To help all Rollers in this critical career development area, we invited them to a LinkedIn Learning Path with courses including "Engaging Your Virtual Audience," "Delivery Tips For Speaking In Public," "Reduce Filler Words When Speaking," and more.
At the end of the week, a panel of Rollers also gave advice, shared career stories, and opened up to the entire organization with the hope of motivating others to grow at work in the areas they are passionate about. 
We learned so much in just one month about how and why to grow at work and where to gain skills to achieve new successes.
If you're not a Roller (yet) but want to invest your career in a company that values growth and work/life balance, check out our Job Board! We may have the perfect role for you to start rollin'.