Single Working Women's Day Spotlight
---
August Fourth is national Single Working Women's Day, so to honor our single-working Rollers, our RollMigos and RollWomen employee resource groups partnered up for an AMA-style discussion with Randi Neal – a rockstar account executive and superwoman mom – to learn more about her and her journey.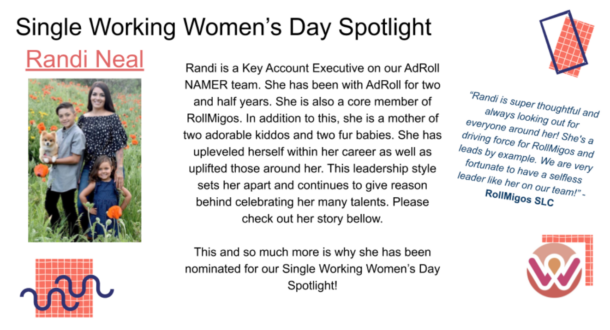 How long have you been a single working mother?
I have been a single working mother throughout  different periods of my life. When my son was age one through 3, I was going to Weber State University part time while serving and bartending. I met my daughter's dad when my son was 3 and we dated for 5 years before we got married. We were only married for about 2 years. Then I recently got a divorce in June of 2019 and now also have my daughter who is currently 4. So most recently for the last year.  It has honestly been one of the hardest years of my life. Especially with the pandemic and everything else that has been brought with 2020.
How has COVID impacted being a single mother with kids at home?
COVID has thrown a huge curveball into how I operate as a single mother. I went from having structure and a routine to having my kids and dogs with me all the time. There were many troublesome weeks of trying to figure it all out. There were also a few weeks where I felt that I had it all together, but most days we just made it through. The way that I finally got a hold on how to stay productive was to have a set plan for the day. While it wasn't followed 100% each day and wasn't planned out in advance, it helped me keep some structure and create a sense of normal for myself and my kids.  
What are your most significant strengths that you developed through this experience?
My most significant strengths would be my drive and motivation.  My work ethic is like no one else's –  knowing that I have two little kids that rely on me for everything drives me to work even harder. I was raised by a single mother so I had a good example of what hard work was growing up. My mom never let me feel the burden she carried and I try my best to do the same for my children. Another strength is my ability to be self aware. I have to be the one to call myself out when I make a wrong decision or when I can tell things are off with myself. I don't have any pushing me or enabling me, I have to be the champion for myself.
What are some of the most difficult challenges that you never thought you would overcome yet here you are?
The most difficult challenge that I never thought I would overcome would have to be addiction. It was something that took up a period of my life before I had kids and I never thought that I would make it out. I made some very bad choices that -when I look back now, I am so blessed to have lived through. It truly has given me perspective on life and just how fragile it can be. It's also shown me how hard work and dedication does pay off. Overcoming addiction is no easy feat and takes hard work, but I believe that this played a huge role in my success so far. 
How did you find the tools and support to get to where you are?
The tools mainly came from college and graduating with a  Bachelors in Professional Sales. The support came from my amazing family, friends, and co-workers. My family helped me rebuild my life and supported me throughout the entire process. My friends offered me, and still offer me, so much support and offer to watch my kids so I can have me time,  which is essential to staying sane. My co-workers and bosses over the last years have been instrumental. I remember my first bosses that really made me feel valued and worthy: Maurice DeVera and Brian Van Vliet. All these amazing people in my life have helped to build my confidence when I didn't believe it myself. They help me continue to grow and improve each day.
What advice would you give to other single working women?
Find your tribe. Honestly if I didn't have such a great group of people around me to be there to support me, I am not sure I would be who I am today.  Work on self development and inner work every day. Some things that help me stay grounded are taking time for my physical and mental health by working out, therapy, and meditation.
What would you tell your past self that you didn't know until now?
"Girl, all the things you will go through in your life will be so worth it."  You are a badass and your life will be amazing. It will not be easy. It will be very difficult and at times you will want to give up, but keep pushing. You will be a wonderful mother and give your children a life you only dreamed of.  
How would you like recognition for Single Working Women to look like in the future?
I think spotlights like this would be great.  I think even putting together a panel discussion would be amazing as well. Feature a few people inside or even outside your company to come and participate. 
What is one thing that you would like others to know about Single Working Women?
I'm not just a Single Working Woman. I am a Single Working Mom. This role in my life is hands down the hardest I have ever had to do. I don't get many breaks and I get burnt out easily.  We are strong and powerful beings. We can do some pretty hard shit. We got this!
Resources:
https://www.huffpost.com/entry/its-single-working-womens_b_11305384
https://workingwomanreport.com/single-working-womens-week-celebrate/
https://www.thebalancecareers.com/work-life-balance-tips-for-single-parents-3514769