How to grow your Shopify store with AdRoll
---
You did it. You've got your store up with Shopify—and it looks great. Each of your products is finally online for people to enjoy. You should be proud of all the work it took to get you to this point, but you're not quite out of the woods yet. It's time now for you to focus on getting the word out about your business and start driving some serious sales. Don't worry too much, though. We've got your back.
We've integrated the AdRoll Growth Platform with Shopify to make it easy to seamlessly grow your loyal customer base with beautiful-looking ads that run across the web, social, and mobile. Setup is simple, and the benefits are massive. Here are just a few reasons why AdRoll + Shopify can help take you from small business to big bucks:
Benefits of integrating AdRoll and Shopify
So why should you consider AdRoll? To begin, AdRoll is a growth marketing platform that helps ambitious companies grow their business with highly-targeted, highly-effective campaigns that can reach customers wherever they go online. But, if you're still not convinced, here are a few more reasons why:
Extended reach for your products
Having too narrow of a scope can often limit the effectiveness of your marketing campaigns. Instead of trying to determine where your ads are targeted, it's also important to determine who your ads are targeting. While running ads solely on Google or Facebook may reach a large portion of your audience, AdRoll can help you reach customers when they visit other sites, social media platforms, and even mobile devices.

Attract, convert, and retain more customers
With this extended reach, you can finally get the chance to attract new, loyal customers and grow that customer base. Once these new customers arrive, AdRoll will also help you retain them until they're purchasing again and again. Simply take advantage of our audience segmentation capabilities to create campaigns that target customers based on whether they abandoned their cart, visited a certain product page, or even signed up for a newsletter.

Showcase entire catalog with dynamic ads
You put a lot of work into selling every product you have. So why be forced to choose which one you'll feature in your marketing campaigns? With AdRoll Dynamic Ads you won't have to. We'll automatically synchronize with your entire catalog to allow you build ads that feature personalized recommendations based on the products a potential customer actually viewed on your site. Better yet, we can feature more than just one product at a time to get customers interested in as many of your products as possible.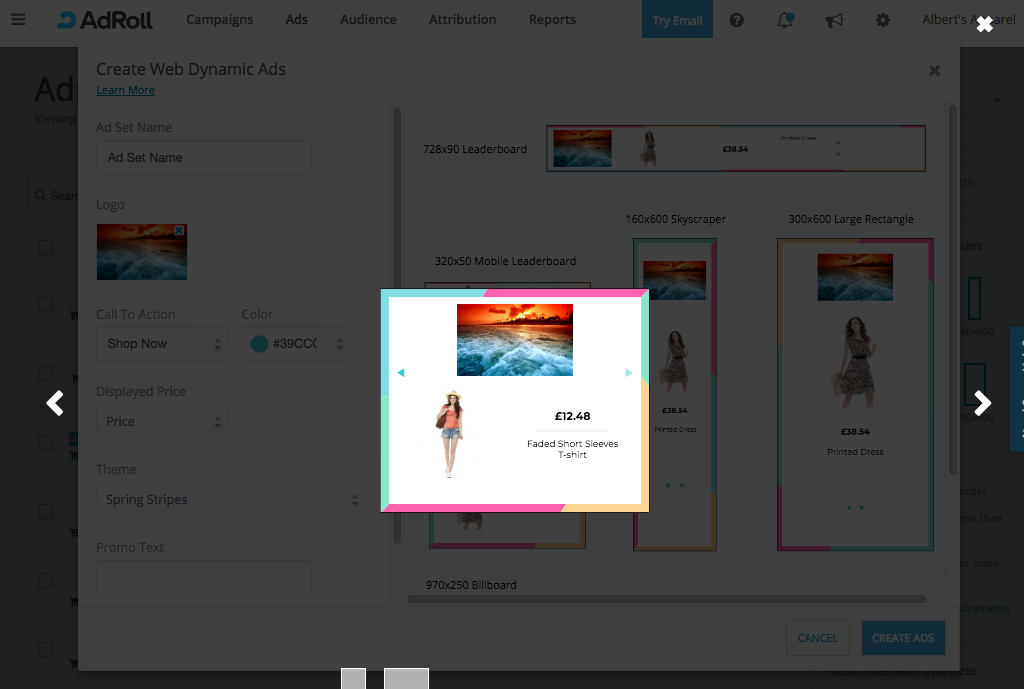 Setting up your Shopify store with AdRoll
We know site maintenance is a huge hassle, and adding new apps to your store can be hard to navigate. To combat this, we've worked hard to make setup with AdRoll simple and quick. If you already have a Shopify store, all you have to do is download the AdRoll app and sign on to AdRoll via Shopify. Here's a breakdown of the quick steps you need to follow:
Within AdRoll, choose your experience level so we can provide the right level of guidance.

At this point, you're ready to connect! Simply select Connect Shopify Store, and then hit the Install app button on the next page.

Upload your store's logo— we'll use this to create seven free ads for your store.

Answer a few more quick questions within AdRoll and then launch your first AdRoll campaign!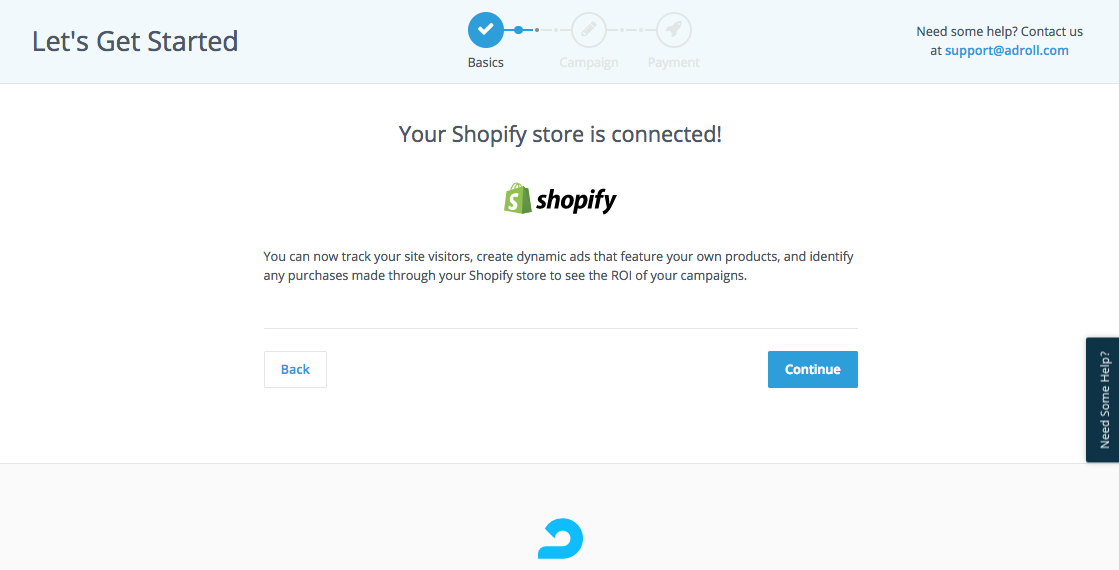 Why wigs.com chose AdRoll to accelerate their rocket growth

With a growing business and a discerning customer base, Wigs.com was looking for a partner that would work with them to help create marketing campaigns that drove tangible results. After working hand-in-hand with Wigs.com's marketing team, our account managers noticed that their campaigns were struggling to meet their CPA goals. We knew that this would be the main focus for their campaigns.
With support directly from our performance playbook, we began testing new ad sets and campaign ideas to tackle their CPA goal. After an initial phase of testing, the performance began to pick up at a rocket pace and, since then, wig.com has seen over 25% of their total revenue driven by AdRoll campaigns alone.
Reiterate the benefit and put in a callout
Listen, starting a business isn't easy—but our proudest moments in life rarely are. Let us take the guesswork out of building your marketing campaigns so that you can focus on the day-to-day necessities that help your business thrive.
Interested in trying it out? Connect your store here.