Dare to Grow—Evolving the AdRoll brand
---
AdRoll began with a mission to democratize advertising and marketing technology for customers of all sizes.
Ten years and over 100,000 customers later: AdRoll, advertising, and online shopping have all dramatically evolved. In the process, our platform has grown to cater to businesses of all kinds, and what has become apparent is that the needs of our customers range widely depending on their focus (marketing to consumers vs. businesses) and size (rising vs. established brands).
To better answer the call, we've reorganized our business into two divisions that each solve for a specific customer set. RollWorks, our newly formed division, will focus on the problems unique to B2B marketers, and AdRoll will continue to focus on the unique needs of the ambitious e-commerce marketer.
Today, AdRoll renews its commitment to empower customers who dare to grow. This includes our new E-commerce Growth Platform, a single platform for ambitious companies to confidently grow their business and challenge established brands—regardless of marketing budget, resources, or expertise.
The E-commerce Growth Platform
Our platform helps brands of all sizes attract new audiences, convert known shoppers, and understand the true impact of their marketing strategies on their bottom line.
We've made it easier than ever for businesses to reach consumers where they live, work, and play online. From a simple setup that's tailored to your business and goals, to all of your customer data flowing into one place within a few clicks, our technology kicks your marketing into high gear to deliver real results (AdRoll customers enjoy a median 489% return on ad spend*).
Once you're up and running, our platform keeps you moving forward. We offer powerful automation and simple, transparent reporting that will make it easy to measure the impact of your marketing and inform you on what to do next.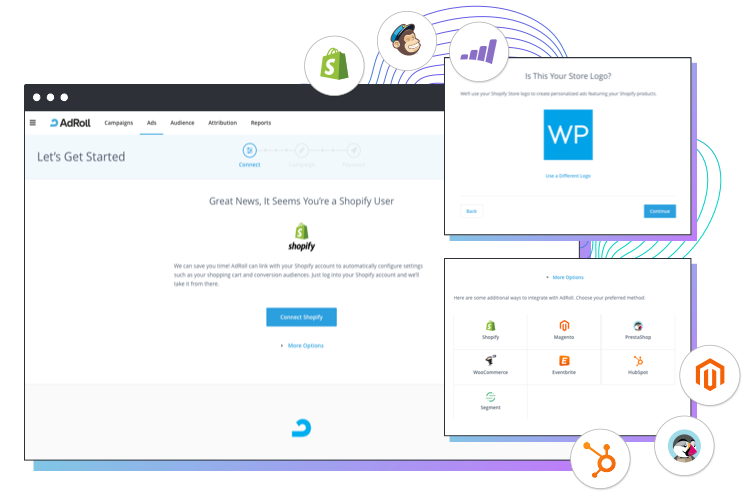 While the design is new, your account and pricing all stay the same. There's nothing you need to do to keep using your AdRoll accounts like before.
A deep understanding of how people shop
We recently launched cross-channel attribution: a new way for brands of every size to see how their ads impact shoppers' actions and what they spend.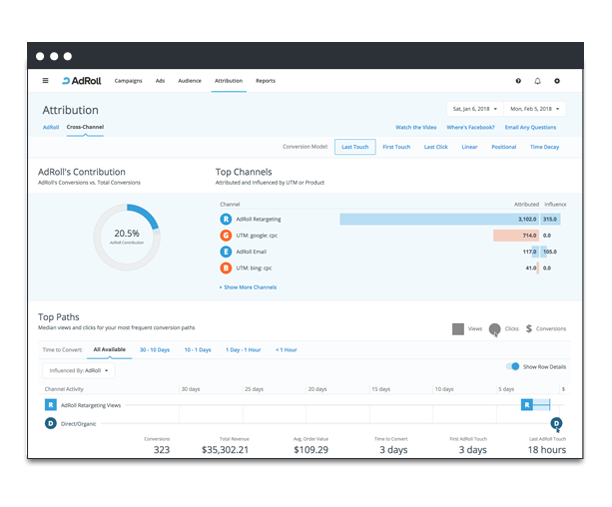 By consolidating the AdRoll ads shoppers see, every conversion event, and total spend into a centralized path, our customers are now better equipped to share their findings and improve the key metrics that matter most for their business.
We hope you explore and enjoy the new AdRoll. There is a lot in store in the coming months, and we are excited to expand the way we help our customers grow.
*Based on AdRoll internal data from H2 2017 for all customers using conversion revenue tracking