Start Strong. Finish Stronger. – Stacie Hudson
---
Stacie Hudson, a Manager of Customer Media Strategy at RollWorks, a division of NextRoll, has grown leaps and bounds in the three years she's worked here.
Since Day One, she's played a vital role in assisting Customer Success Managers by providing data-driven insights and recommendations for customer campaigns and program successes. Because of her drive, determination, and teamwork, Stacie was promoted from Customer Media Manager into her current role, which gives her the opportunity to redefine and expand the existing team. 
She's also taken advantage of Learning & Development opportunities at NextRoll, like our Women in Leadership program, to ensure she keeps growing her skills and her career. Here's what she had to say about her success-focus mindset and how NextRoll supports her goals.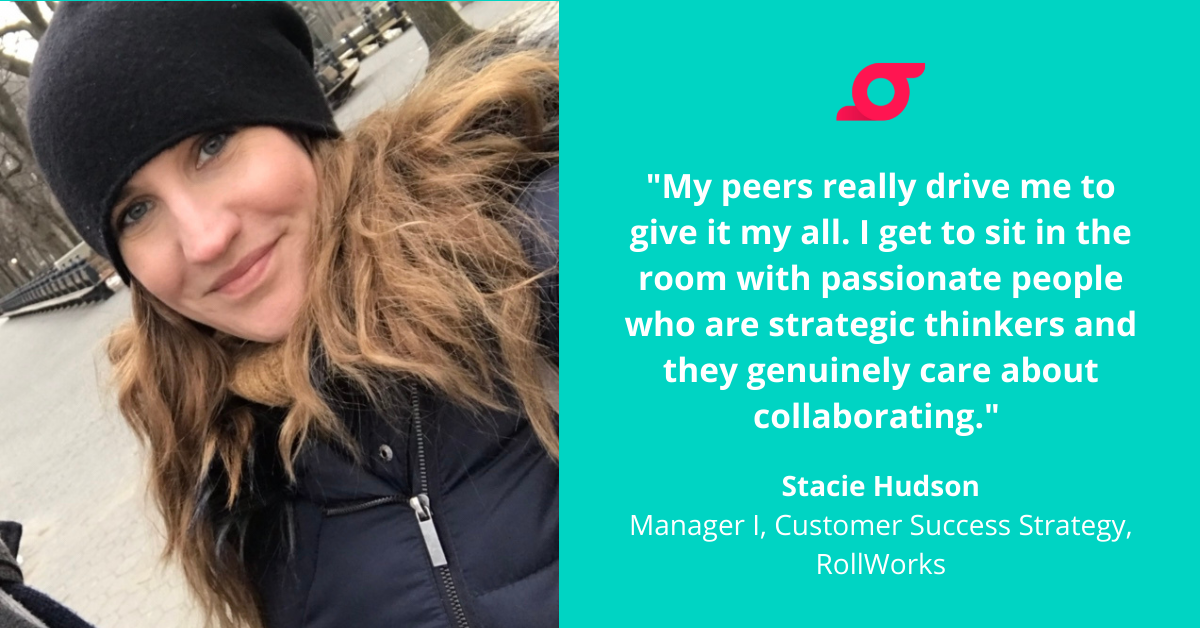 What do you enjoy most about your role?
I love figuring out the answer to a "but why?" question. Working in strategy, I utilize data to create a performance narrative that is digestible for our customers and actionable internally. Finding that golden nugget of information that creates a direct tie between different insights or data points is exciting to me. 
I enjoy figuring out puzzles built around questions like: "how can something be done better or more efficiently?" and "how can I collaborate with others to make this happen?" Getting exposure across all facets of the RollWorks business units keeps each day a little different and exciting in a unique way. 
In addition, I'm expanding the Customer Media Strategy team with a cohort of new hires. It's very rewarding to guide and educate someone; supporting them while they grow into their role and providing them their own tools to flourish within the company. 
What do you think are the most important things to have in order to be successful at your job and why?
From my point of view, some of the most important qualities you must have to succeed are the willingness to work hard, stay positive, communicate regularly, accept praise and criticism equally, and give or share credit to those who deserve it. 
But the most important thing is the community you surround yourself with; they are vital to succeeding in any role. Building a community of peers who appreciate your skillset, are generous enough to help you brainstorm, and advocate for you is truly invaluable and can motivate anyone to go beyond what they thought they could do. I've been so fortunate to work alongside folks who have played such a role in my own growth and success.
In what ways has NextRoll set you up for success?
When I started, there was very little onboarding and the entrepreneurial spirit was strong. You had to have a high level of resourcefulness and not be nervous to ask questions to folks you may have never met. Over the past few years – while that mentality hasn't changed – the training, enablement, and onboarding have advanced significantly. I'm routinely provided the tools to uplevel my professional career, and NextRoll gives plenty of opportunities to elevate my mental and physical health. 
What keeps you going strong at work and why?
In the time we are living in, motivation can be a difficult thing to muster. At times it feels like you're muddling through, looking at life through a foggy window. The most important factor in daily joy and motivation is a sense of progress and purpose. 
My peers really drive me to give it my all. I get to sit in the room with passionate people who are strategic thinkers and they genuinely care about collaborating. These enjoyable experiences and comradery help me to feel that forward momentum. That same momentum guided me to a new role. This new and exciting challenge gives me a whole new perspective, which has ultimately refreshed my outlook and helped me feel reinvigorated.
Where and how have you grown the most since you started at NextRoll?
I've learned how to better use my voice. By nature, I'm shy but very curious. My biggest challenge has always been that I knew my value but hadn't spoken up enough. Over the past few years, I've had the opportunity to work with some very talented folks who saw me quietly working and coming up with new ways of thinking. They saw my potential, advocated for me, and encouraged me to step out of my comfort zone. 
With that push, my confidence has grown substantially. Now, I've been involved with more projects, contributed ideas, evoked change, and I'm now leading a team. It's been a lesson I truly value that can be applied to many facets of life.  
How do you measure success in your career?
I really enjoy problem-solving. It's one thing I want to do every day for the rest of my career. Not every day is perfect, but if I can find a solution to one problem, I consider that as a lead to the path of a successful career.
If I can look back on the past week, month, or year and think I did the best I could with what I had. I was the best version of myself at that time. I took as many opportunities to help others as I could. Then I feel successful. For me, those values are benchmarks to measure my own progress and success, personally, and professionally. 
Are you ready for a career that supports your aspirations and growth in and outside the office? Learn more about how we support ambitious women on our Start Strong. Finish Stronger. site.