Start Strong. Finish Stronger. – Meet Lysann Somanchi
---
As NextRoll's Director of Brand Safety & Policy, Lysann has already reached incredible heights in her career – but her title doesn't keep her from learning and growing at work.
When she isn't leading NextRoll's Policy team, which helps protect our community, customers, and the integrity of NextRoll's Platform, she's also collaborating with other teams, including Legal, Product, and Sales. Oh yeah, and being a mom to two sets of twins!
So how does she have the time in her day to grow her career skills? At NextRoll, we not only encourage skill building during work hours, but we also invest in a wide variety of professional development training for Rollers, like the Women in Leadership program Lysann recently completed. 
Here's a little insight into how she stays motivated to keep growing at work and in life.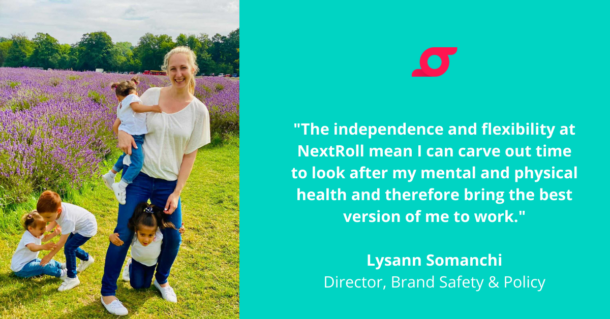 What do you enjoy most about your role?
It's a global role, and I get to work with amazing and talented people across continents and different functions within NextRoll. No day is the same, and I'm able to help shape the future of my department, as well as support our Sales teams in closing business and opening up revenue opportunities.
What do you think are the most important things to be successful at your job and why?
I've always felt empowered by NextRoll's leadership to think strategically and help prepare us for future success. NextRoll makes it easy to reach out to colleagues across different departments, and every single employee I've had the honor to work with has been transparent and supportive to get things done. 
The culture here is unique and one I'm proud to be part of. I've most recently completed a six-month "Women in Leadership" course, which NextRoll organized. I feel the sessions had a positive impact on my thinking as a manager, as well as given me new tools to navigate through various challenges I face at work. 
In what ways has NextRoll set you up for success?
From day one and my first role here, I was tasked with improving processes and advising the business on potential gaps and needs. I always felt my ideas were welcomed, and I've seen many of them come to fruition over the years. 
What keeps you going strong at work and why? 
I'm a big believer in teamwork and utilizing strengths across people. I try to build diverse teams that complement one another and bring out the best in each employee. Seeing people and projects grow gives me a great sense of satisfaction.
In addition, the independence and flexibility that NextRoll provides means I can carve out time to look after my mental and physical health and therefore bring the best version of myself to work.
Where and how have you grown the most since you started at NextRoll?
During my six plus years here, I've learned how to adapt to change and embrace new opportunities. I've had various managers and worked with different leaders and leadership styles. Through that, I learned to trust that no matter the circumstances, as long as I work hard, I'm appreciated and respected by all. This has led to a massive boost in my own confidence to lead my department.
How do you measure success in your career?
That's a great question and the answer to it has evolved over the years. Right now, success means to do meaningful and impactful work that is aligned with our company strategy. NextRoll has also given me career stability and allowed me to continue to grow after two episodes of maternity leave. My proudest moment was when I had just returned from maternity leave and got a promotion, as well as new responsibilities within the next quarter.
Are you ready for a career that supports your aspirations and growth in and outside the office? Learn more about how we support ambitious women on our Start Strong. Finish Stronger. site.